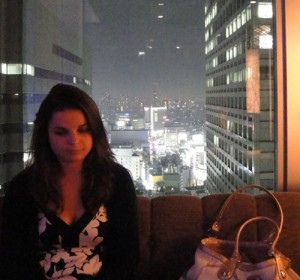 I am an American woman living in Tokyo, Japan. I first came to Tokyo on July 19th, 2009 for an internship with non-profit organization Run for the Cure Foundation. I spent four months working with the foundation as a marketing and event planning intern. I helped organize a marathon run for charity around the imperial palace in central Tokyo and a gala event at The Westin hotel in Ebisu, Tokyo. Both events required massive amounts of time and energy dedication. I gained a great deal of valuable experience over those four short months, and underwent many personal and professional changes. At the conclusion of my internship, I decided that four months wasn't enough; I wanted to move to Tokyo.
I returned to the United States for three months where I worked full time searching for a job back in Japan. I applied to countless numbers of positions, drafted endless resumes, cover letters, and introductory emails. From these applications I received three interviews. From those three interviews came one job offer – a job offer I happily accepted. On February 11th, 2010, I returned to Tokyo and began my work as an English Instructor. I was provided training and support from my company, and was sent to my position in West Tokyo.
I left my teaching job in June of 2012, at which point my family and I went on a month-long adventure to Europe. We had the time of our lives! When I came back to Tokyo, I had the extreme good fortune to find a new job working at a beer import company based in Shinjuku. It was a challenging atmosphere that taught me a lot. My contract there concluded in April of 2013. Currently, I work part time (one day per week) at the University of Tokyo as a proofreader and translator (though I'm certainly no translator; Google Translate does most of the heavy lifting). I also do a little teaching for adult students at a stylish language school in Shibuya. I host a webseries called "English in Three Minutes" for a language learning company, and also do voice acting for language lessons for the company's audio programs. My last primary position (there are 4, yes) is as a proofreader/editor for a service called Eigobin, a website where Japanese individuals looking to practice their written English can submit their work and have it corrected with comments and suggestions for improvement.
I'm busy, but in a good way. I live, work, and play in the great city of Tokyo, Japan. When I'm not working or lurking on the internet, I enjoy going on long walks throughout the city to new places, trying new foods, people watching at cafes, and checking out matsuris (festivals). I have a great many goals for my time in this awesome place, most of which I am actively working towards. I enjoy staying busy, but also consider myself an expert relaxer. I am quirky, but am also well versed in my skill sets, and do the things I do because they make me happy. My biggest pet peeve is a lack of follow through. My guiltiest pleasure is cheesecake. My greatest happiness comes from feeling a sense of accomplishment. I am a worrier, a planner, a writer, a teacher, a reader, and a thinker. I am also a cook, a knitter, a daughter, a sister, and a co-conspirator. Someday, though, my real dream is to become a Jedi Knight.
F.A.Q.
Why "Arisha In Tokyo"?
My name is Alisha, but I have yet to encounter a Japanese person who can say it properly. It's a silly play on a nuance of the language. I'm Alisha in the USA, but in Tokyo, I'm "Arisha." I even had an apartment agency I rented from type "Arisha" in their message to me.
Why are you in Tokyo?

Why are you where you are?
I live here because my life choices have brought me to this city. I live here, work here, take days off here, pay my bills here, and worry about my future, same as anyone else in any other place in the world does. I'm in Tokyo because I like it, it suits me, and I enjoy the challenges it presents me with every day. I chose to be where I am. Just like you!
Why Japan?
I came to Tokyo in the summer/autumn of 2009 to work as an intern for a non profit organization doing event planning, marketing, and general office work.  I loved my experience, but still felt I missed out on some cultural opportunities, and also still wanted to build my language skills.  I decided I wanted to make my stay in Japan long-term, so I found a way to do that (I got a job, hey!).
What did your internship entail?
Every day was a little different. The main goal behind what I did was to raise money and awareness for breast cancer. The foundation purchases mammography machines and places them in rural areas of Japan where women don't currently have access to screening and testing facilities. I helped to plan two events: The Run for the Cure/Walk for Life and the Pink Ball. The first is a run around the Imperial Palace, the second a gala event. I helped out by doing general office work, attending meetings with my boss, some web updating and a little bit of translation here and there. It got crazy toward the end of the job, but I loved it. Sure, some nights I wasn't getting home until 2:00 AM, but really, I enjoyed myself and thrived on that sense of purpose.
Do you like sushi/ramen/X food?
Yes, mostly.  There are certain things I prefer above others (LET ME EAT GYOZA), and I typically don't eat much "crazy" stuff, but I'll usually try anything once.
Do you speak/read Japanese?
I speak book Japanese. Classroom Japanese. I was taught at my university for 4 years by wonderful native speakers. They were patient, kind, and educated us culturally as well as linguistically. I feel very fortunate to have participated in the program.
That being said, when I speak Japanese, I do make errors. I often don't know the right word or quite exactly the way to express what it is I want to say. I still don't feel like my Japanese is particularly amazing (especially my writing skills), but when I think back to how it was when I first arrived three years ago, I feel amazed. I use it every day, and I still struggle with it, but I grow a little bit more literate every time I come into contact with it. I have no trouble surviving and communicating in everyday conversation. Just don't ask me for a philosophical debate.
Where do you live?
I live in Shinjuku ward in Tokyo. Shinjuku is arguably the heart of the beast that is this city.  In the past, I've lived in Akihabara, and in Nerima-ku, about 15 minutes north of Ikebukuro by train. I also spent a year in a guest house in Musashi Koganei, West Tokyo.
What made you learn Japanese?
To be honest, I heard some Japanese music in high school and couldn't understand a word of it. I've always liked learning languages, so I started teaching myself hiragana, katakana, some vocabulary, and basic grammar when I was a junior in high school. When I got into college I was required to take a language to graduate. I chose Japanese and ended up loving it, so I chose to major in it. So…thank you, Gackt and Dir en Grey. Without you weirdos I wouldn't be where I am today.
Do you drift cars?
Every night you can catch me doing it…if you know where to look.